Wow I've actually been in the mud 3 times this month already! While the air has been nice and warm, the mud itself has been pretty cold, almost to the point of numbness. But that hasn't stopped me from venturing waist deep in the stuff. The spot I've been playing in is the lighter shade of grey along the right side of the photo below. There's even more exposed mud there now, and the spot is getting a little bit bigger, and a little less watery, but just as deep and squishy as when I first discovered it.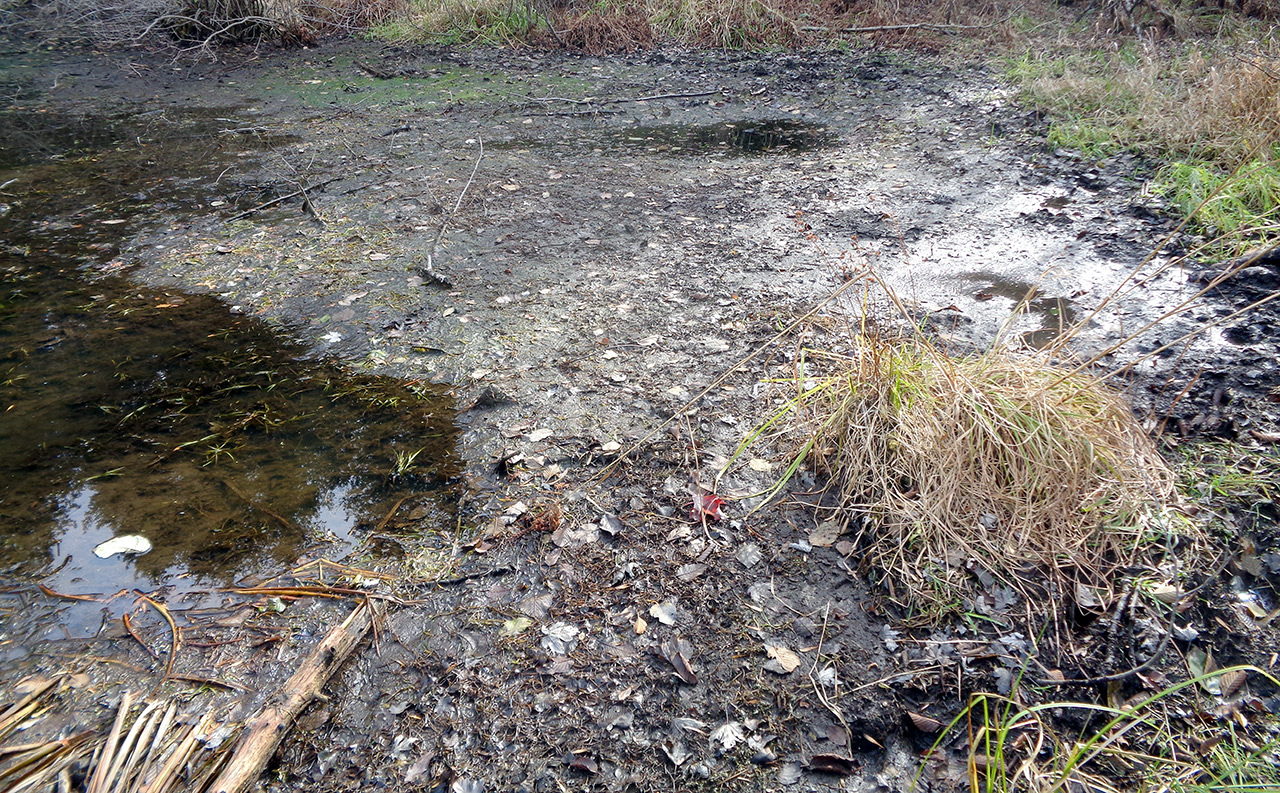 I really want to get down into it a bit more… Crawling around in it feels so wonderful and every time I plunge my arms into it I get a wonderful feeling, even if it's a bit on the chilly side. Unfortunately, I'm encumbered by the fact that this is someone else's land, and hunting season is in full swing. This is always on my mind as I'm squishing around. Eventually, I forget about it all tho. I've even found a nearby patch of trees that I can retreat to should I suspect a visitor nearby. It's hard to tell what's what since the crinkly leaves make pretty similar noise whether it's a squirrel digging around or a bird digging around or a human walking around… I'm really, really, really looking forward to visiting this place next year when it's still warm.
I'm betting the property owner is this kind of person who goes to bed at like 8pm… So it would be really nice to visit it in the evening and be able to play around there for more than 10 minutes… But, golly, it's going to be a long, hard winter waiting for another chance to experience this spot, and even then it'll be next autumn by the time the water level is low enough to expose that all. The good news is I've been picking out as many sticks and branches as I can and
And even if I leave town to live somewhere else, I can always come back here. There's lots of places to park my wheels and still have a reasonable distance to hike. Yeah. This winter is going to be difficult!
I was very tempted to check out Truck Hole Trail, but I was stopped cold by a lack of funds… I might still try to visit it just to see how much fun the mudder trucks had with it this summer, but again it's getting a bit too cold for playing.
Related Images: