Yeah so I took a nice Sunday drive today. At this point, I'm kind of regretting it because I found something that looked very tempting, but so totally unsafe that I sat there for 3 full hours in full gear, ready to jump in at any moment, but so full of hesitation that I ended up going home instead.
And you can see why…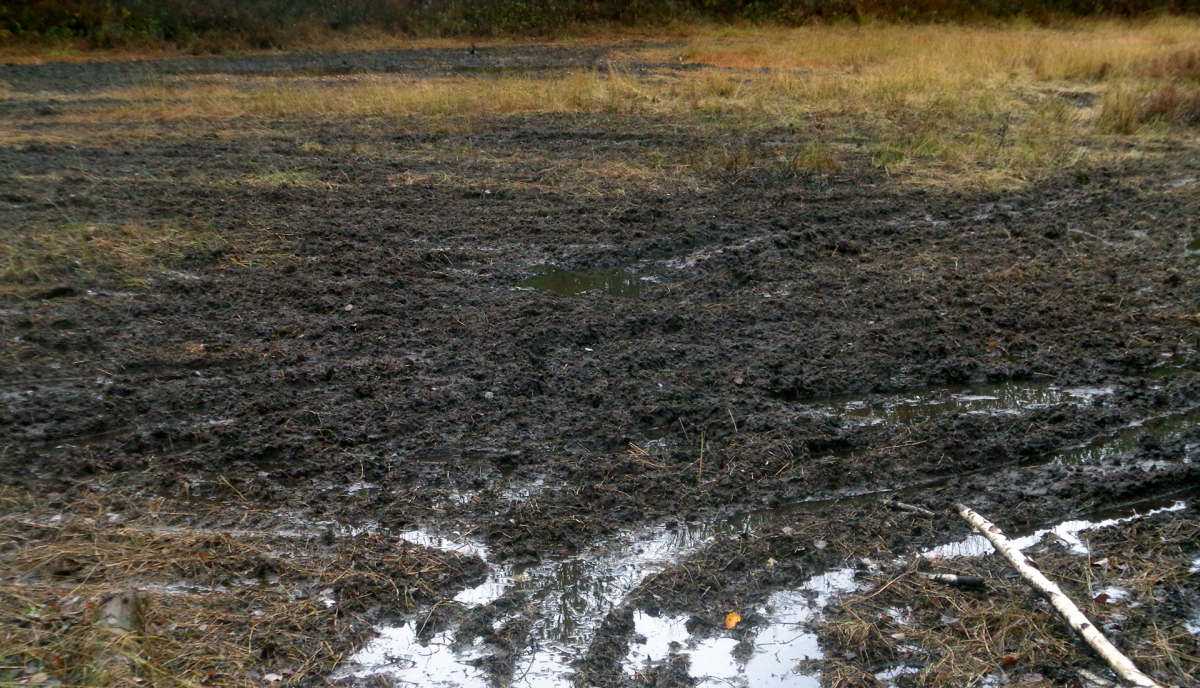 Yup. It is what it looks like. Someone came across this dried out vernal pool and took their 4-wheeler through it a few times. This is like a dream spot for me, similar to Truck Hole Trail, but in this case it's most likely much deeper… Already softened up and mixed around and everything!
Except, it's literally right beside the road. I was standing on the road when I took that photo. I swear I was ready to cry when I finally drove away and went home. The universe can be so cruel! 🙁
And so I sit here sadly writing about the adventure that could have been (but wasn't)… I even took a stroll around the area looking for somewhere away from the bright truck lights of passers by. I found a spot and approached it, until I noticed a goddamned trail cam. Fuck me!! I really hope I noticed it before I entered it's field of view. If not, it could be very embarrassing.
Despite the cam watching the area, I did find a deep swampy place outside of it's field of view (I hope) to squelch around in a little, but it was so full of tree branches I couldn't enjoy myself at all.
Still, I'm tempted to revisit the site tonight. I wish I could put my car somewhere else, because people drive by, see the car, and start looking around for it's owner. There's nowhere to hide at all. Even the surrounding bushes just don't offer any good cover because all the leaves have fallen to the ground by this time in the fall. *sigh*
I can't stop thinking about how I can get into this mud. I can certainly don my full zentai suit, which covers my head and face too… But the car on the side of the road still gives me away… I can wait until it's dark but truck lights are powerful and will see me. I wouldn't be surprised to find myself going back there and repeating the disappointing hesitation that gripped me last night.
Related Images: